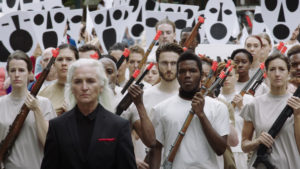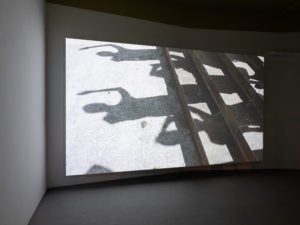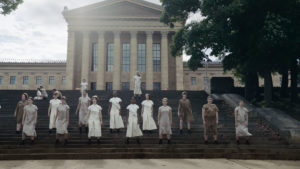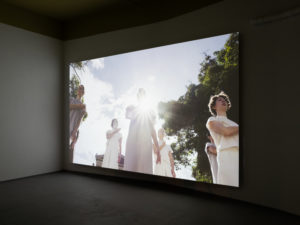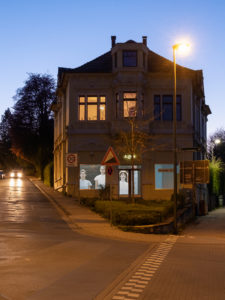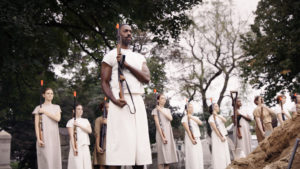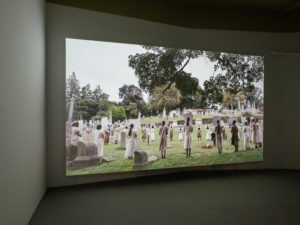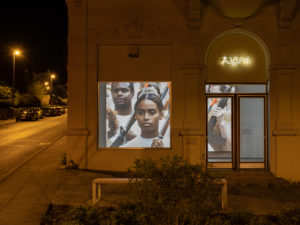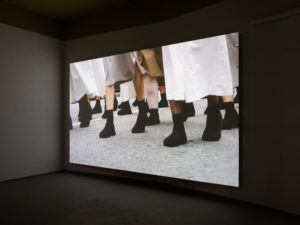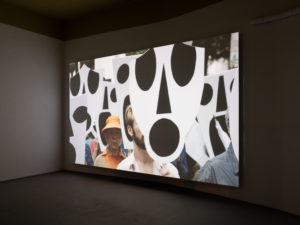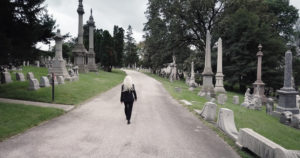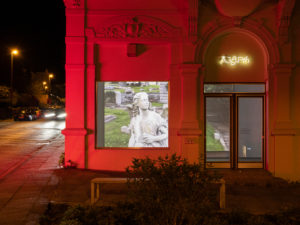 More
Key concepts in Bartana's work include the meaning of such notions as "homeland" or "belonging," which the artist investigates in the form of ceremonies, public rituals, and social practices designed to reinforce a sense of collective identity in a nation-state. Her practice embraces a synthesis of the factual and the latent/fictional to deconstruct and critique both fundamentally-oriented Israeli and Western-influenced ideas and narratives. The artist develops poetic metaphors for the mutual conditionality of cultural identities that also describe her personal dialogue between cultures.
A cemetery becomes a crucial setting in Bartana's 2019 video
The Undertaker,
appearing at the start and in the culminating moment of a military funeral procession in which no soldiers are laid to rest. A grave has been dug. But instead of coffins or human bodies being carried to the gravesite, we watch as a diverse army procession disposes of their firearms, tosses their rifles into the open grave so as to bury them with dignity. The soldiers are dressed in tunic-like sheaths in a variety of beige tones, giving them the uniform look of a single, striding organism. Various sequences show the swarm moving through the northeast US city of Philadelphia as part of the artist's 2019 public performance
Bury Our Weapons, Not Our Bodies!
The city, the birthplace of American democracy, becomes a key character in its own right as the mass of uniformed dancers, war veterans, and activists from a variety of local communities meander through its historic streets. Leading the procession is a charismatic, androgynous leader with long, loose white hair, dressed in an all-black trouser suit. The artist deliberately uses a female protagonist here as a counter-figure to the stereotypical political leader. Similar to Bartana's recent videos and performances
What If Women Ruled the World,
2017, and
Two Minutes to Midnight,
2021, the work combines fictional settings with real-life people to create complex plot scenarios that test feminist alternatives to outdated concepts of patriarchy and power.
The play of contrasts, opposites, and dichotomies is continued in the juxtaposition of military imagery and dance: Various points in the video find a group of dancers simultaneously performing simple sequences of motions and gestures. Inspired by work of Israeli choreographer, dance pedagogue, and artist Noa Eshkol (1924–2007), these movements quote passages from Eshkol's 1953 performance in memory of the Warsaw Ghetto Uprising. Yet in contrast to the leveling of the subject normally found in the military, we see performers deviating somewhat from the uniformity of the movements, retaining something of their own, personal uniqueness. Characterizing the video overall is a sense of solemnity and dignity, a quality manifested in the uniformed group's serious facial expressions and purposeful, confident stride. It is further reinforced by places in which the events of this ritual play out: the graveyard, for example, or the stairs leading up to a structure resembling a classical Greek temple—settings that allude to life, death, and the struggles of human existence.
All of this is heightened by the sound design and the rhythm of the video's editing, which give the allegorical scenario an almost monumental character. Certain moments find visually powerful shots amplified by militaresque musical elements layered into the original sound. Yet speaking and singing remain altogether absent; it seems human language does not exist in this world. Even the choreographed pieces are for the most part accompanied only by sounds of nature. Such formal and stylistic elements allow the work to both build and maintain a level of tension in the mind of the viewer; its reduction gives form and visibility to the unspeakable. The unseen experiences inscribed in these bodies—collective memories, ordeals, or traumas—are kept under wraps, retain their charge.
Yael Bartana (b. 1970 in Kfar Yehezkel, Israel) lives and works in Amsterdam and Berlin. She has had numerous solo presentations at international venues including the Jewish Museum, Berlin (2021); Fondazione Modena Arti Visive, Modena (2019/2020); the Philadelphia Museum of Art (2018); Stedelijk Museum, Amsterdam (2015); Secession, Vienna (2012); Tel Aviv Museum of Art (2012); Moderna Museet, Malmö (2010); and MoMA PS1, New York City (2008). Other presentations include those at various biennials and group exhibitions, including the São Paulo Biennial (2014, 2010, 2006); Berlin Biennial (2012); documenta 12 (2007); Istanbul Biennial (2005); Manifesta 4 (2002); at KINDL – Centre for Contemporary Art, Berlin (2020); Kunstpalast Düsseldorf (2020); Stedelijk Museum Schiedam (2019); and Museum on the Seam, Jerusalem (2019). Her work features in a number of museum collections including the Museum of Modern Art, New York; Tate Modern, London; and Centre Pompidou, Paris.
The Undertaker, 2019
Single-channel video and sound installation, color, sound
13:00 min.
Courtesy the artist
Text Cynthia Krell
Translation Amy Patton


Close