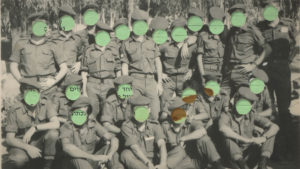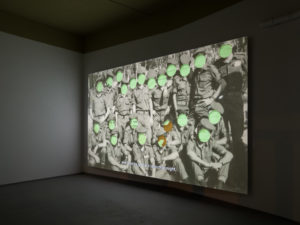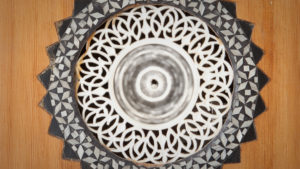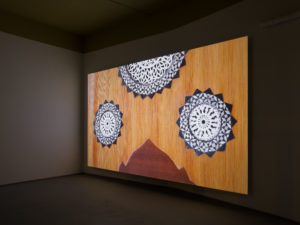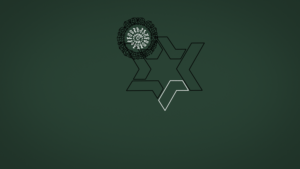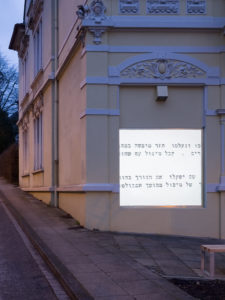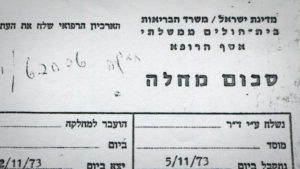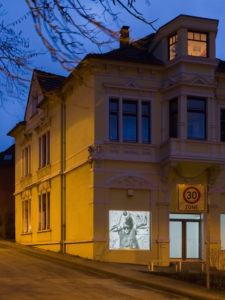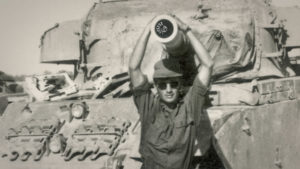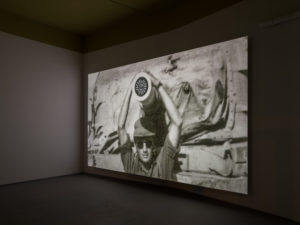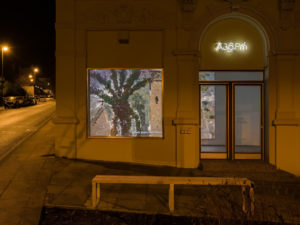 More
Guez's title draws on a 19th-century expression used to describe the collapse of the Ottoman Empire. His work illuminates military history through the individual biographies of cultural figures (architect, composer, painter) who were involved as soldiers in various wars and conflicts in the Middle East.
The Sick Man of Europe: The Painter,
2015, is usually presented as a room-encompassing total installation. Components include a video and reproductions of paintings, but also a number of tabletop display cases: repositories of seemingly personal, found or collected everyday objects, objects, photographs, magazines, books, and, in some cases, drawings that are distributed throughout the space. As (symbolic) contemporary witnesses, they appear in the video as well. The displayed items, found objects and artifacts complete the portrait and narrative of the work's central figure (the painter).
Guez's video
The Painter,
2015 combines documentary approaches with a manifesting of personal history. The main character, painter D. Guez, bears the same last name and first initial as the artist himself—a trace that unintentionally implies that the piece should be read autobiographically. The film shows the painter speaking episodically of his life. Framing his account at the beginning and at the end is a Tunisian animal fable.¹ We learn that he comes from a family of Tunisian Jews who emigrated to Israel. Raised in a religious household, D. Guez spoke Arabic at home and Hebrew in his wider surroundings. He then gives a very detailed account of his self-taught career in painting before becoming a soldier. Letters to his family, read aloud, are illustrated with a number of snapshots showing his time in the military. This is followed chronologically by his deployment in the Yom Kippur War² in October 1973, a conflict that ended with a brutal attack in Syria. The painter was traumatized. We hear quoted excerpts from D. Guez's psychiatric file. Finally, we learn about his relationship with his wife, who is from a Christian Palestinian family. The film ends with a continuation of the animal fable.
The protagonist's narrative flow is pictured with visual material consisting of his drawings and paintings, photographs from his military days, illustrations from books and various documents. Paintings also appear as fragments or in tightly-framed close-ups that allow the torn layers of paint to stand out in detail—a visual analogy evoking the traces and injuries of history. Inspired by the painter's direct life-world, their motifs also indicate the stylistic influence of Western art history, showing figuratively suggestive (village) landscapes and still lifes. Guez also makes formal use of the scanning process, employing it several times throughout the piece. It is only through the scanner's artificial backlight that the drawing, painting, and document are made visible to us—the artist's process also rather allegorically resembles that very same technical procedure, consequently revealing the hidden unwritten, personally-experienced history behind an official historical account.
Guez's constructs the
Sick Man
narrative so as to reveal tensions between Eastern religious and Western secular cultures in border regions such as Israel ("villa in the jungle") and Turkey ("the gateway to Asia"). Every video and individual object in
The Sick Man of Europe
installation shows how written history often collides with the lived stories of various individuals. The project metaphorically transforms the reading of Middle Eastern history from a highly simplified meta-narrative to a nuanced, diverse chorus of personal stories in a region where military service is mandatory for all able-bodied men (and in Israel, for women as well).
The video resembles a visual essay that formally follows a stringent script. In embracing a documentary-biographical approach, Guez focuses mainly on questions of representation and of the relationship between history and memory via various, material means of accessing the past. In doing so he spans an arc between biography as a narrative of one's own life and history as a collective way of accessing many subjectively experienced pasts, which are then placed in a relationship with narrative processes. The choice to collect and archive objects that gain value through personal selection—viewed in a museum-like, archival presentation—describes a subjective, partly biographical narrative that both mirrors and condenses the collective writing of history. Guez assumes an outside perspective, a decision that allows him to subject his own experiences to scrutiny and to process these investigations in an artistic way.
Dor Guez (b. 1980, lives in Jaffa) is an artist and lecturer. He was born in Jerusalem to a Palestinian family from Lydda on his mother's side and a family of Jewish immigrants from North Africa on his father's. His photographs, video installations, essays and lecture-performances explore the relationship between art, narrative, trauma, memory and displacement.
The artist's many bodies of work juxtapose personal experience with official accounts of the past. His work continually questions the role of contemporary art in telling unwritten histories and addressing associated blind spots, as well as the recontextualization of visual and written documents. In doing so, he also traces the potential of a many-voiced and speculative narrative. Guez's oeuvre and research over the past 20 years have focused on archival materials and photographic practices in the Middle East and North Africa, as well as on mapping traces of violence in the landscape. In 2009, Guez founded the Christian Palestinian Archive (CPA), the first archive dedicated to the Christian Palestinian minority in the Middle East. Preserving images—as situated within complex frames of reference—is crucial to his artistic approach.
Dor Guez received his PhD from Tel Aviv University in 2014 and has been teaching at the Bezalel Academy of Arts and Design since 2009. He is director of Bezalel's Master's Program in Fine Arts and co-director of SeaPort: Mediterranean Curatorial Residency. His work has featured in over 40 solo exhibitions worldwide, including those at Bogotá Museum of Modern Art MAMBO (March 2022); Galerie carlier | gebauer, Madrid (April 2022); Princeton University Art Museum, Princeton, USA (May 2022); Goodman Gallery, Cape Town and New York (2021);
Kunst im Kreuzgang
, Bielefeld (2021); Les Rencontres d'Arles, Paris (2020); Galerie carlier | gebauer, Berlin (2020); Centre for Contemporary Art Futura, Prague (2020); American Colony Archive, Jerusalem (2019). Guez has also participated in numerous group exhibitions, including presentations at the Jewish Museum, New York (2021); The Israel Museum, Jerusalem (2021); Taubman Museum of Art, Roanoke, USA (2021); Hugh Lane Gallery, Dublin (2021); University of Northern Iowa Gallery of Art, Cedar Falls, USA (2020); and Susquehanna Art Museum, Harrisburg, USA (2019).
The Sick Man of Europe: The Painter, 2015
1-channel video, color, sound
20:00 min.
Text Cynthia Krell
Translation Amy Patton
Photo Ines Könitz

¹This one is about a female beetle who marries a male mouse. The beetle falls into a pit; the male mouse lowers his tail to save her. In the process, the tail falls off. After a party with all the mice from the village, each of them has their tails removed as an (outward) sign of the equality of all living creatures.
²Egypt and Syria attacked Israel on the holiday of Yom Kippur on October 6, 1973, thereby recapturing territories previously occupied by Israel. The war ended on October 26, 1973, when both parties signed United Nations Security Council Resolution 338.


Close