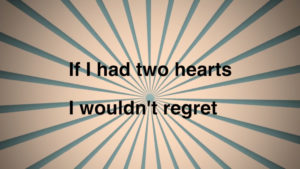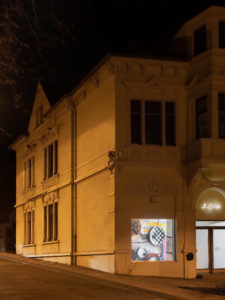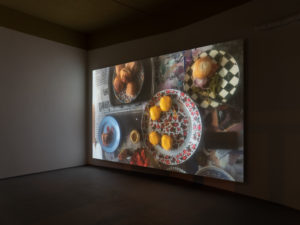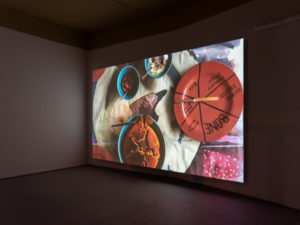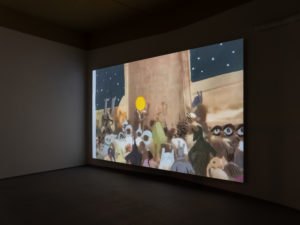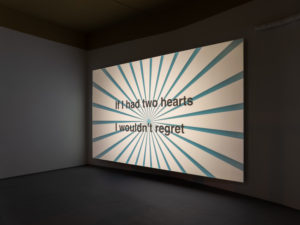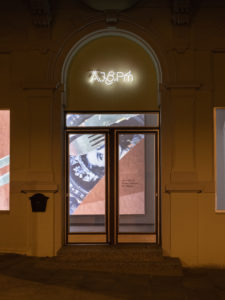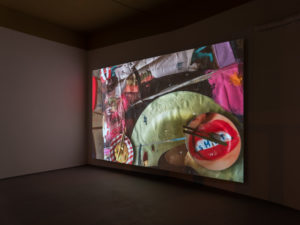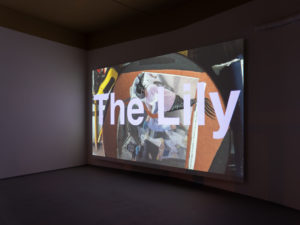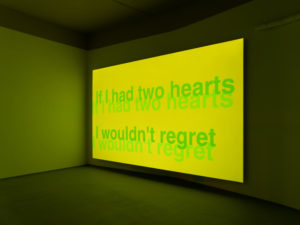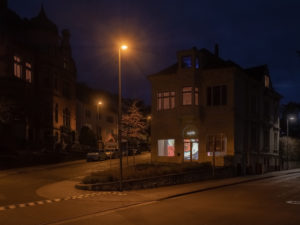 More
These images are overlaid with those showing such art materials and supplies as mixed paints, used brushes, differently-sized containers of water, open books and newspapers, countless painted-over copies of historical photographs, and other unfinished artworks. In some cases, the painted-over individual pictures form a seconds-long animation. Unlike the collective's performance-based works, the artists themselves do not appear. But we do hear (their) male voices singing the days of the week in chorus: "Monday, Tuesday, Wednesday, Thursday, Friday, Saturday, Sunday." Chanted at varying tempos, the named days of the week to bleed into one another, giving the words a mantra-like quality.
The video work serves as a kind of visual diary, albeit one in which the days have no specified date and the global-pandemic-induced state of emergency is not addressed. Instead the artists deliberately reduce everyday life to two, recurring activities — i.e. eating and artistic labor — for which the dining-slash-work table doubles as a randomly-arranged stage. As an overall composition, the table filmed from above recalls Daniel Spoerri's "snare-picture" assemblages
(Tableaux piège)
from the 1960s. A key difference here is not only the time-based medium, but also the artists' use of repetition as a structural element in the video: shots of everyday activities and a recitation of days of the week are repeated; a short piece of music and select verses of a poem by the Palestinian poet Mahmoud Darwish are blended in. The poetic insertion of such verses as "If I had two hearts / I wouldn't regret" or "If I had two paths / I would choose the third" engender a kind of mental in-between space — one that uses literature to punctuate and momentarily disrupt the apparent monotony of day-to-day life.
These days have served as a kind of intensifier for the artists, forcing even more focus (than usual) on their art and thoughts. Life and labor in the collective is accompanied by rituals and condensed in the results of their work; the video illuminates this process for us, the viewers. And yet not only are we watching art in the making, we are also confronted with an open end. There is no social or political critique in
From March to April… 2020
and its focus on everyday acts. Emerging instead are more personal notations on a "not anymore" or "not yet" — on an inbetweenness of space and time, a resonating chamber between loss and renewal. They document the fleetingness of a moment that also always speaks of changes to come.
Ramin Haerizadeh (born 1975, Tehran), Rokni Haerizadeh (born 1978, Tehran) and Hesam Rahmanian (born 1980, Knoxville) have been living and working together in Dubai since 2009. They work as individual artists independent of one another and also propagate a form of collaboration devoid of individuality. The artists met in Tehran in the mid-1990s and each continued to develop his own artistic signature. A few years later, they formed a loose collective and moved into a house in Dubai. The house — a creative site for developing such organically-grown collaborative works as installations, films, objects, and sculptures for exhibitions — is also home to their collection of artworks, mundane items, and found objects. Their exhibitions encompass a combination of perfomance, painting, collage, drawing, videos, and texts, which they often incorporate into site-specific and expansive installations. A first glance would suggest a focus on crises in the Middle East, investigating power structures, and topics of exile and migration in a historical dimension. Yet their works — subversive in terms of visual language and culturally complex in structure — also contain satirical scenes or expose the absurdity of the globalized world. Employed artistic strategies and elements include costumes, role-playing, performative objects, and homemade painting machines that they use to create their expansive installations. Another key component of their practice is exchange and collaboration with cultural practitioners, writers, and artists, who also they invite to participate in their exhibitions.
The trio's works have featured in numerous solo and group exhibitions and biennials worldwide. Solo exhibitions in recent years include those at Schirn Kunsthalle, Frankfurt am Main (2020); Frye Art Museum, Seattle (2019); Officine Grandi Riparazioni, Turin (2018); MACBA, Barcelona (2017); Institute of Contemporary Art, Boston (2015); Kunsthalle Zürich (2015); and Den Frie Centre of Contemporary Art, Copenhagen (2015). Major group exhibitions include the 22nd Biennale of Sydney, (2020); the Toronto Biennial of Art (2019); the Louisiana Museum of Modern Art, Humlebæk (2019); the Guggenheim Abu Dhabi (2017); and the 9th Liverpool Biennial (2016).
From March to April… 2020,
2020
Single-channel color video, sound
7:46 min.
Courtesy of the artists and
Gallery Isabelle van den Eynde
, Dubai
Text
 Cynthia Krell
Translation
 Amy Patton
Photo
Ines Könitz
Close