ajh.pm
Dornberger Str. 2, 33615 Bielefeld
ajh.pm is an art space opened in Bielefeld in December 2020. It showcases videos and other art projects by international artists at regular intervals. Videos are displayed in a loop at nightfall and can also be viewed for a limited time on this website. Project initiator Audrey Hörmann would like to use this platform to promote dialogue around young and lesser-known, but also established artists and their work.
Opening times Wed + Fri 6–8pm

Statement by Audrey Hörmann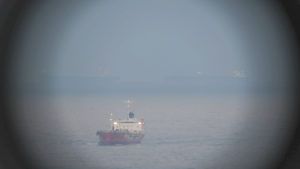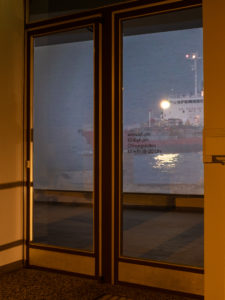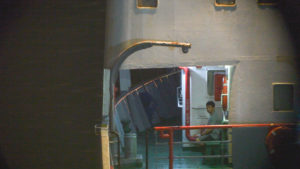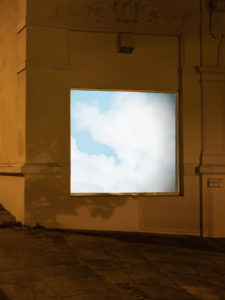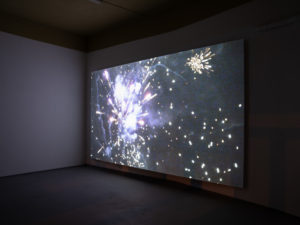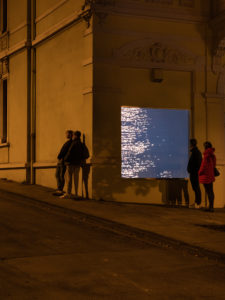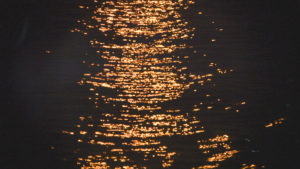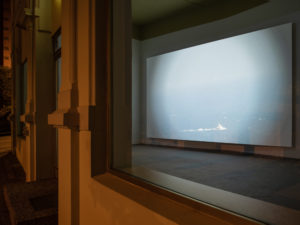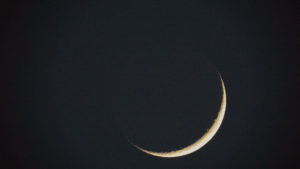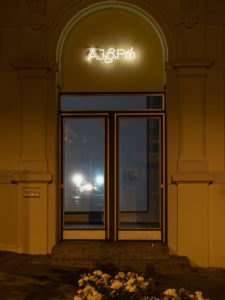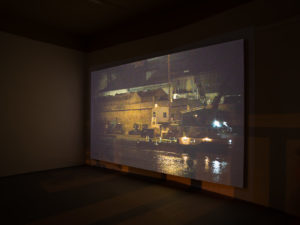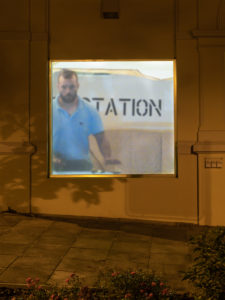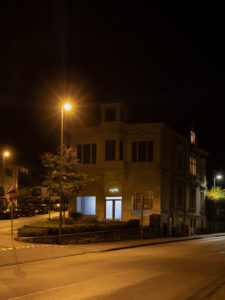 More
At the same time, the circular image through a viewfinder only ever reveals part of the whole, and it becomes increasingly blurry towards its black edges. Tobias Zielony's
Hurd's Bank
(2019), a video commissioned by the art space Blitz Valletta in Malta, employs static shots through a telescope as a cinematic and artistic device. The artist used a camera fitted with a telescope lens to record ship traffic at Hurd's Bank: a distant, shallow stretch of water where oil smugglers from Libya (and other ports or states) transfer crude from one ship to another—a kind of maritime darknet. Its footage shows the hazy contours of passing motorboats and container ships, countless luminaries and light points, ship workers on break. All of it appears swallowed by darkness, made dim and vague by its distance and fuzziness. Moving images blur before the viewer's eyes, evoking a kind of maritime log book with no clear reference to either geographic location or the ships themselves.
A fictional narrator gives a fragmentary account of his observations and experiences during his stay in Malta. The monologue's actual storyline reconstructs the still-murky murder of Maltese investigative journalist Daphne Caruana Galizia (2017); it searches for explanations and speculates as to connections between corrupt politicians and the mafia underworld, but also ponders Malta's political role at the far borders of the EU. As the narrator notes, "Who wanted her dead? And why? The people trying to solve these questions live in danger. Something thick and impenetrable lays in front of my eyes. I hope that the opacity is hiding something rather than being the answer itself." Right before her death, Caruana Galizia had raised allegations of corruption by members of the government and exposed the country's lucrative cash-for-passports scheme. The articles posted on her blog made her many enemies, particularly among the island nation's political elite. Despite an extensive investigation and findings holding the Maltese state at least partially responsible for the murder, questions as to its realpolitik motivation remain.
Several passages in the monologue point to a dialectic of the visible and invisible: "I wonder if merely looking at a ship might already be dangerous? The telescope blurs the distinctions between distance and proximity, risk and safety, movement and stillness," and later, "When I connect the telescope to the camera and aim it at the harbor, I see nothing at first. The noise of the camera blends with the motionless water, magenta and black. The dots of lights make no sense. What am I looking at?" Zielony succinctly sums it up in his use of observation and a telescope to create a meta-reflection, a resonance image for opaque, under-the-surface dealings beyond the law. Like his work in photography and in other videos, the artist moves between documentation and fiction, observation and assertion, staging and deconstruction. Zielony keeps things in limbo, negotiates in an almost unspectacular way the personal and political aspects of an assassination-for-hire—speculates about dark in-between spaces, but also their influence on and collective memory in a country, history, and people.
For many years, Tobias Zielony's work has focused on youth subcultures and marginalized groups in society, which he mostly photographs in their social surroundings. Photo series by the artists often take a specific location as point of departure. From there the artist embarks on a visual search for traces, cautiously approaches people, gets to know their day-to-day customs and codes, explores their habitus and status. Zielony's photographs frequently take up tools of photojournalism, in particular a sense of intimacy and proximity to his subjects. Zielony's chosen protagonists touch on political and social issues in a globalized society, and yet they also always reflect on the image itself as a phenomenon of our time. In 2006 he introduced videos and stop-motion films to his practice, the earliest of which were still closely tied to the photo series in terms of subject matter. His later cinematic works show increased artistic autonomy. Involving and focused on socially-marginalized communities, they probe the line between documentation and fiction, using the emerging in-between spaces to create alternative narratives.
Tobias Zielony (b. 1973 in Wuppertal) studied documentary photography at the University of Wales from 1998 to 2001. He completed his studies there in 2001 and went on to become a master student of Timm Rautert at the Hochschule für Grafik und Buchkunst, or Academy of Fine Arts Leipzig. Zielony's work has featured in numerous solo exhibitions, most recently at the Museum Folkwang Essen (2021), Blitz Valletta, Malta (2019), Von der Heydt Museum, Wuppertal (2017), and Berlinische Galerie, Berlin (2013). He has also contributed to group exhibitions and biennials including the 11th Seoul Mediacity Biennale (2021) and shows at Kunsthalle Exnergasse, Vienna (2020), Julia Stoschek Collection, Düsseldorf (2020), and Fotomuseum Winterthur (2019), as well as RIBOCA, the Riga International Biennial of Contemporary Art (2018) and the 56th Venice Biennale, German Pavillon (2015).
Tobias Zielony
Hurd's Bank,
2019
1-channel HD video, color, sound
14:55 min.
Courtesy of the artist and
KOW
, Berlin
Text
Cynthia Krell
Übersetzung
Amy Patton
Close