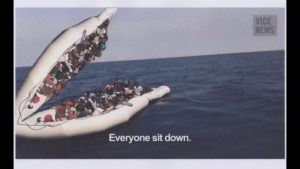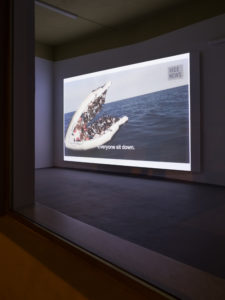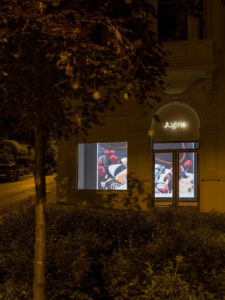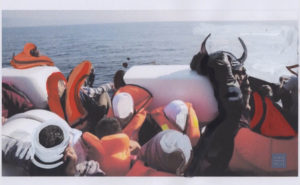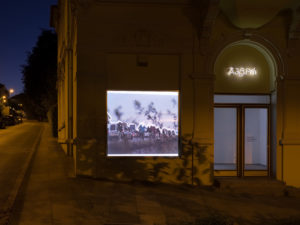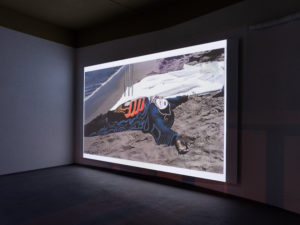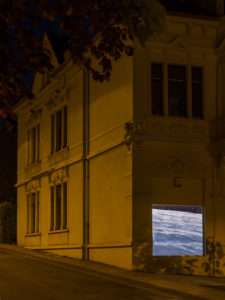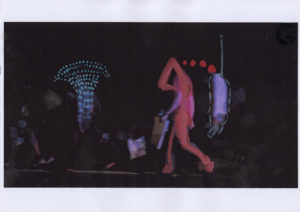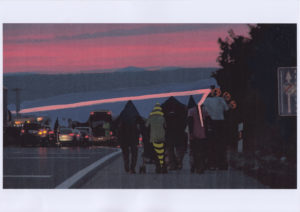 More
scenes of lifesaving arrival on the beach; the provisioning of exhausted human beings; enormous piles of used life jackets; mobile masses of people making their way through Europe; dissuasive border fortifications and security forces; considerate helpers with food and bottles of water. The video ends, as indicated by the title, with an unstoppable human train running to meet the dawn. Shown without sound, it features subtitles that reflect the original soundtrack or journalistically comment on the footage, pointing to the images' news-media origins.
And yet what we encounter here is not simply the bare media material itself 
—
pictures that never fail to roil us as European-socialized viewers, draw our sympathy, shock or even deaden us over time. Artists Ramin Haerizadeh, Rokni Haerizadeh, and Hesam Rahmanian create these 
"
moving paintings
" 
by combining media images with found footage material, printing them as individual pictures and painting on them by hand. The painted-on lines, patterns, and embellishments often give rise to a very poetic defamiliarizing effect that brings both playful and grotesque-looking creatures to life. The video covers the individual faces of the migrants with ladybug wings, for example; figures in the human train sometimes appear as floating cloud-entities, as mythical creatures or even as part of a giant, meandering organism. Unexpected mirror effects give some sequences an almost surreal quality; we watch as human bodies or an inflatable boat take on lives of their own, morph and mutate into fantastical beings.
The alienation effects used here seem to force a distance to what it is that we actually believe we are looking at. As a gestural moment, the overpainting acts as a counterpoint to the media news images, overlapping and overlaying an often cruel or tragic reality. This painterly act wraps the depicted scenes and people in a (symbolic) second skin that also protects their privacy. The embellishments counter the news images circulated in the mass media with an alternative narrative of migration 
— 
one that does not relentlessly focus on the suffering of others, but creates an aesthetic space for reflection that slows down the process of reading the images and thus also demands a reaction from the viewer. The artists
' 
series of works not only translate the power of mass media and global inequalities through photography or the moving image; they also always imply questions about the possibilities of representation and an overwriting of the collective visual memory with counter-images.
Ramin Haerizadeh (born 1975, Tehran), Rokni Haerizadeh (born 1978, Tehran) and Hesam Rahmanian (born 1980, Knoxville) have been living and working together in Dubai since 2009. They work as individual artists independent of one another and also propagate a form of collaboration devoid of individuality. The artists met in Tehran in the mid-1990s and each continued to develop his own artistic signature. A few years later, they formed a loose collective and moved into a house in Dubai. The house — a creative site for developing such organically-grown collaborative works as installations, films, objects, and sculptures for exhibitions — is also home to their collection of artworks, mundane items, and found objects. Their exhibitions encompass a combination of perfomance, painting, collage, drawing, videos, and texts, which they often incorporate into site-specific and expansive installations. A first glance would suggest a focus on crises in the Middle East, investigating power structures, and topics of exile and migration in a historical dimension. Yet their works — subversive in terms of visual language and culturally complex in structure — also contain satirical scenes or expose the absurdity of the globalized world. Employed artistic strategies and elements include costumes, role-playing, performative objects, and homemade painting machines that they use to create their expansive installations. Another key component of their practice is exchange and collaboration with cultural practitioners, writers, and artists, who also they invite to participate in their exhibitions.
The trio's works have featured in numerous solo and group exhibitions and biennials worldwide. Solo exhibitions in recent years include those at Schirn Kunsthalle, Frankfurt am Main (2020); Frye Art Museum, Seattle (2019); Officine Grandi Riparazioni, Turin (2018); MACBA, Barcelona (2017); Institute of Contemporary Art, Boston (2015); Kunsthalle Zürich (2015); and Den Frie Centre of Contemporary Art, Copenhagen (2015). Major group exhibitions include the 22nd Biennale of Sydney, (2020); the Toronto Biennial of Art (2019); the Louisiana Museum of Modern Art, Humlebæk (2019); the Guggenheim Abu Dhabi (2017); and the 9th Liverpool Biennial (2016).
From Sea to Dawn
, 2016/17
Single-channel color video (rotoscopy), no sound
6:21 min.
Courtesy die Künstler und
Gallery Isabelle van den Eynde
, Dubai
Text
Cynthia Krell
Translation
Amy Patton
Photo
Ines Könitz
Close