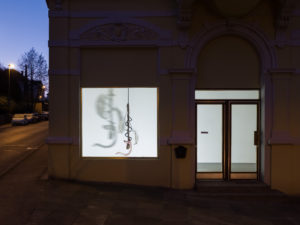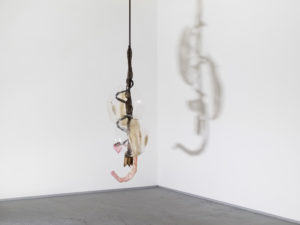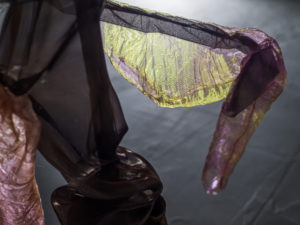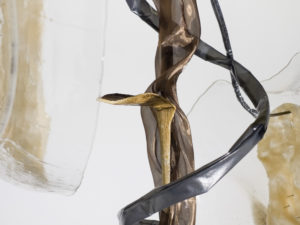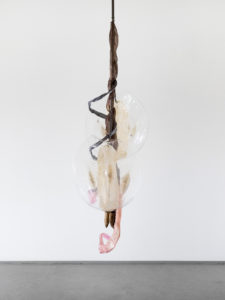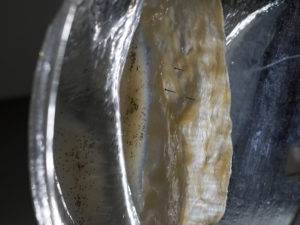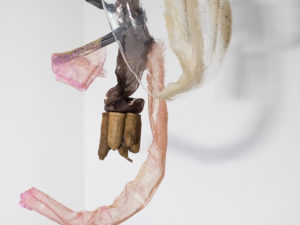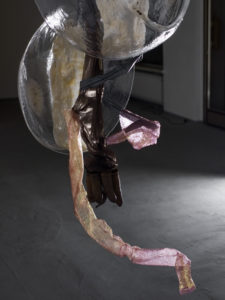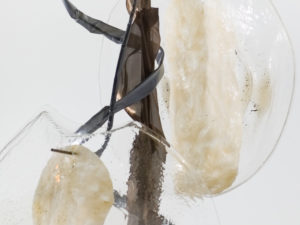 More
Merging in the artist duo's sculptures, figures, and installations are various materials, images, and bodies, many of which recall futuristic or biological settings. Technical webbing and textiles meet transparent, ephemeral materials, combining into objects and installations that are at once organic- and synthetic-looking.
Visitors are submerged in
Extrakorporal
as if in a petri dish. Or could the exhibition space have opened a shamanic realm? Organs and tissues grow on the outside of bodies, the future behavior of which can only be speculated. Turritopsis jellyfish and sea urchin larvae are investigated cell-by-cell in search of a recipe for their immortality. Their self-generating and -organizing tissues are subject not only by the laws of biology, but to the laws of commerce as well: the bio-substances and -materials are channeled into lucrative projects, effectively converting them into abstract bio-values and an element of the economy.
Floating in space is an ostensibly familiar, yet all-but-incomprehensible object — a thing composed of such disparate materials as heat-molded Plexiglas, silicon, glass, and an assortment of fabrics (artificial leather, natural leather, slightly shiny textiles). Formally inspired by the richly-detailed, zoological glass models of father-son glassworkers Leopold (1822–1895) and Rudolf Blaschka (1857–1939) and the organic-seeming, transparent and delicate sculptures of artist Eva Hesse, it has the look of a ritual mask without the shaman. Evocative of a hybrid creature or trophy, the object recalls something that has been extracted from the vital essence or deathlessness of these sea creatures, as if that essence had taken on a life of its own. But does it still/also curative powers?
With
Extrakorporal
, Pakui Hardware once again uses artistic means to investigate the significance of bodies, performativity of materials and profit to be gained from biological substances. The sciences are only a starting point for their investigation. Pakui Hardware is just as interested in the underlying economic considerations reflected in the fundamental products and materials. Their focus is what Catherine Waldby and Robert Mitchell have called "tissue economies"¹: the effects of bio-capitalism and regenerative medical technologies that, for both therapeutic and economic reasons, rely increasingly on such human and animal-derived matter as skin, blood, and cellular material. Pakui Hardware attempts to translate the many interacting, disparate elements and topics in sculptural form. Just as researchers probe the inexplicable energies of self-regeneration by combining human substances with those from other species, artificial-industrial and organic forms are combined in the exhibition, merging to form a reality that is at once physically experienceable and altogether speculative. The space around our bodies becomes a petri dish, morphs into the symbolic expression of our eternal quest for immortality in the charged space between economics, science, and technology.
Pakui Hardware (1977 and 1984, Lithuania) live and work between Berlin and Vilnius. Upcoming solo exhibitions include those at Leopold-Hoesch-Museum, Düren (2021); and BALTIC Art Center, Gateshead (2020). Past solo exhibitions include presentations at Museum der bildenden Künste Leipzig (2019); Future Gallery, Mexico City (2019); Bielefelder Kunstverein (2018); Tenderpixel, London (2018); and mumok – Museum of Modern Art Ludwig Foundation, Vienna (2016). Past group exhibitions include MO.CO La Panacée, Montpellier (2020); the 7th Biennale Gherdëina (2020); the 16th Istanbul Biennial (2019); MAXXI, Rome (2019); the 13th Baltic Triennial at CAC, Vilnius (2018); BOZAR, Brussels (2018); Kunsthalle Basel (2017); and Kunstverein Braunschweig (2017).
Extrakorporal, 2018
Text Thomas Thiel
Excerpt from the companion essay to Pakui Hardware's exhibition at Bielefelder Kunstverein, 2018.
Photo Ines Könitz

¹Robert Mitchell, Catherine Waldby (ed.), Tissue Economies: Blood, Organs, and Cell Lines in Late Capitalism, Duke University Press, March 2006.


Close