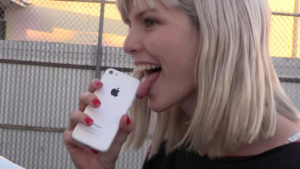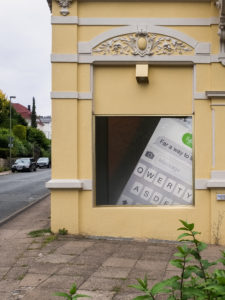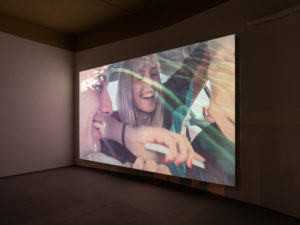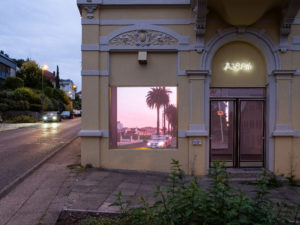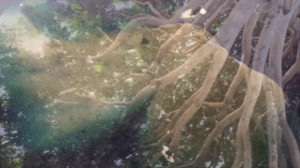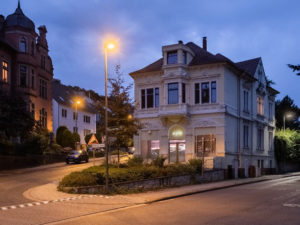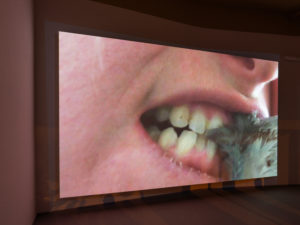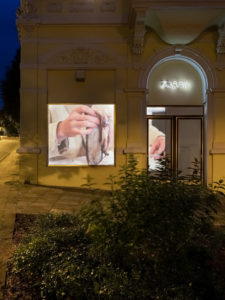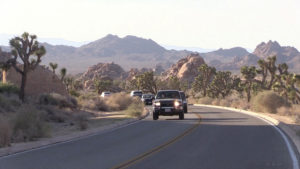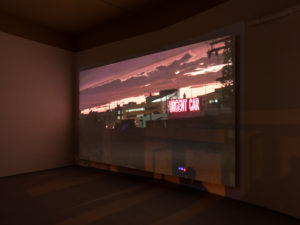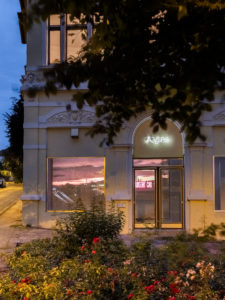 More
They can be seen having a good time, talking about banal and surreal things, licking their mobile phones, posing, touching each other and other bodies as if by accident, driving around LA by car. The amateur protagonists infuse their lines with slang and their own expressions as the narrator, Laure Prouvost herself, whispers alliterations, onomatopoeias, and puns. The artist juxtaposes this urban scenario with footage from her video We Will Go Far (2015), a work featuring young people in rural France who ride a motorcycle to escape their everyday lives. The LA clique's escape vehicle of choice is a white car. We see them gliding along highways, past building facades, parking garages, deserts, and beach promenades—LA comes to life as both a place of longing and the setting for countless movies. Also evoked are Edward Rucha's iconic black-and-white photographs of LA from the 1960s and 1970s—images taken following a rigorous cartographic and Conceptual approach, but whose very conciseness has solidified their place among the archetypes of American culture and landscape.
Counteracting these cityscapes, especially at the beginning of the video work, are sometimes idyllic, sometimes unruly images of animals and nature. Examples include grazing cows, fish gasping for air, or a paintbrush acting as an octopus. In a short sequence of images, the artist herself appears to be eating a dead bird—not a cruel fantasy, but an art historical reference to the 1927 painting
Jeune fille mangeant un oiseau (Le Plaisir)
by René Magritte (1898–1967). Prouvost draws on a large repertoire of visual references and motifs that recur throughout her body of work, among them animals (fish, octopus, cow, bird), liquids (water, honey, milk, silicone, oil), consumer goods (car, motorcycle, mobile phone), and body parts (female breast, hands). She virtuosically montages significant individual shots to create surreal images and silly, exaggerated metaphors, but also to evoke expressly erotic associations and clichés that nevertheless have a very immediate impact on the viewer, potentially setting their own imaginations in motion. Consciously creating visual overstimulation while adhering to the artistic principle of the Gesamtkunstwerk, or total work of art, videos in Prouvost's exhibitions are often embedded in elaborate, meticulously-staged spatial installations. These typically deserted-seeming settings have something of a dystopian, toxic quality; destroyed (consumer) objects appear strewn on the floor under a poured-over layer of an epoxide-like, hardening liquid—a second skin. Complementing this are pieces of found or specially-made furniture, posters, signs, wallpaper, sculptures, or drawings, all creating a sensually condensed atmosphere between fantasy and desire, reality and déjà vu.
Laure Prouvost's film is and remains ambivalent to viewers, at once idyllic and rebellious, naive and refined, obscene and sensual, unique and universal. The teenage road movie shows an attempt to flee mundane daily routines, which usually end at home. A never-ending escape from one's own skin, one's own history, one's own life. The serene landscape is polluted with motorcycle exhaust fumes; LA is de-romanticized thanks to its concrete ducts and runoff oil. The result is not least a deliberately orchestrated vertigo that entices us to dive into our own associations, worlds of thought or memories, to escape from everyday life for a moment, as words spoken at the beginning of the video suggest: "We could go far, far away… (humming) Follow me we could go far, far away. Come this way! (singing) We could go far, far…"
Turner Prize-winning artist Laure Prouvost is known for her lush, immersive videos and mixed-media installations. Interested in confounding linear narratives and expected associations between words, images, and meanings, she has said that her works are where "fiction and reality get really tangled." At once seductive and jarring, her films consist of a rich, almost tactile assortment of images, sounds, spoken- and written sentences that appear and disappear in rapid, highly rhythmic cuts. These are often shown in installations filled with a dizzying array of found objects, sculptures, paintings, drawings, furniture, signs, and architectural assemblages, all based on themes and images from her films. Prouvost does not allow for passive viewing; throughout her work, she often speaks directly to the viewer, drawing them into her unruly, imaginative visions.
Laure Prouvost (born 1978, lives in Antwerp) is a graduate of Central St Martins and Goldsmiths University of London. She also participated in the LUX Associate Artists Programme. Recent solo exhibitions include those at Kunsthal Charlottenborg, Copenhagen (2021); Lisson Gallery, London (2020); Kunsthalle Lisbon (2020); les Abattoirs, Toulouse, and LaM – Lille Métropole Musée d'art moderne, d'art contemporain et d'art brut, Villeneuve d'Ascq (2020); M HKA – Museum of Contemporary Art Antwerp (2019) and Palais de Tokyo, Paris (2018). Prouvost represented France in the 58th Venice Biennale (2019) and participated in the 22nd Biennale of Sydney (2020). She is winner of the 2011 Max Mara Art Prize for Women and was awarded the Turner Prize in 2013.
Lick In The Past,
2016
single-channel video, color, sound
8:23 min.
Courtesy of the artist and
Gallery carlier | gebauer
, Berlin/Madrid
Text
Cynthia Krell
Translation
Amy Patton
Photo
Ines Könitz
Close